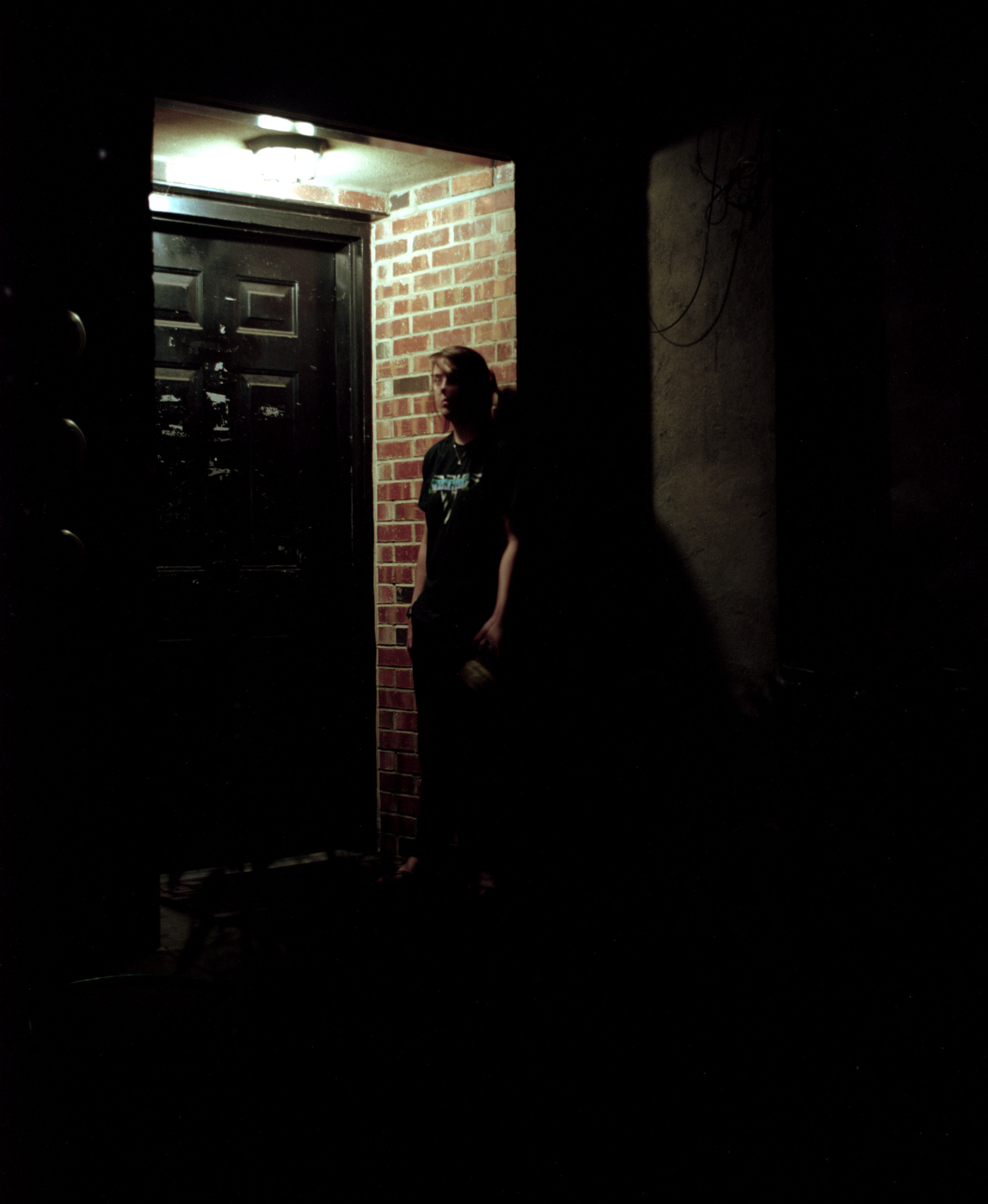 Here is a picture I took the night after I ended the longest romantic relationship of my life.
I came home from Vincent and Nora's that night and noticed how the sky and moon looked. I knew I wanted to document that night but I didn't really know why. There's supposed to be some sort of moon transit right now, according to my astrology app. Last night it looked like a wide piece of cantaloupe, hiding behind low clouds, as I walked home from the bus. I didn't exactly realize it at the time, because I was more relieved than sad, but the night I took this picture was one of the first nights in two years that I didn't call him before I fell asleep. I set up the tripod and pointed it up, sideways, every which way, to photograph the sky. I shot most of a roll, and then I put the tripod in my driveway where he'd park, and stood under the weak floodlight at the front door to my apartment to fire the shutter.
I did not think my entire life would upend itself after I ended my relationship. My parents' house will have changed completely the next time I visit. I myself might be moving apartments- a change of scenery would be nice, considering this is the first time I've broken up with someone and stayed living in the same place, afterwards (though I've never lived with a partner). ICP all but closed, meaning I lost access to an Imacon scanner. While this sounds sort of conceited, drum scans have been pivotal to my artistic process since 2015, and figuring out a new process is a challenge. The scan you are looking at is a flatbed scan from my boss's work scanner. My future scans will either be expensive or sloppy, like this one.
The only word I can use to describe how I have felt lately is unmoored. I find myself resonating heavily with the person I was during the summer of 2015, the last time I was single for longer than a month or so. Part of this is the being single and the other part is that I was so strikingly alone during that period of my life - as I am now. A brief but intense relationship ended that February and that summer was spent trying to pick out all the stitches left in me. It was also spent panicking about death. I've been thinking about how quickly the last four years of my life have gone by, and fending off a lot of similarly negative and panicky thoughts in the process. It would be interesting to try and visualize what those fears mean to me - all I feel like I've been able to do lately is exist within them.
Eventually those fears subside. It's been a month since I took this picture. I know how to take care of myself. I want to foster a stronger relationship to my work. I'm planning trips to different states, places I've never been. I'm doing all the right things. I have reasons to feel unmoored but I have better reasons to feel strong and resilient. The reason I have had trouble writing this out is that I assume no one wants to hear about my personal shit, despite the fact that it's the main thing I write and photograph about. So here I am: looking my tenderness in the face, acknowledging it for what it is, loving it (even if that means photographing it in the dark).